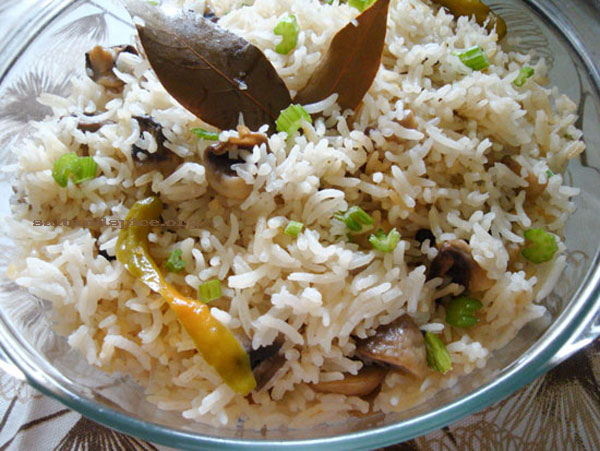 Ingredients
Mushroom – 200 gm cut into pieces
Basmati Rice / Long grain Rice – 2 1/2 cups
Water – 3 cups
Milk – 1 1/4 cup
Butter – 2 tbsp
Bay leaves – 2
Peppercorns – 1/2 tsp
Onion – 1 chopped
Green chilly – 2 slit
Ginger garlic paste – 1 tsp
Salt – to taste
Celery – 2 tbsp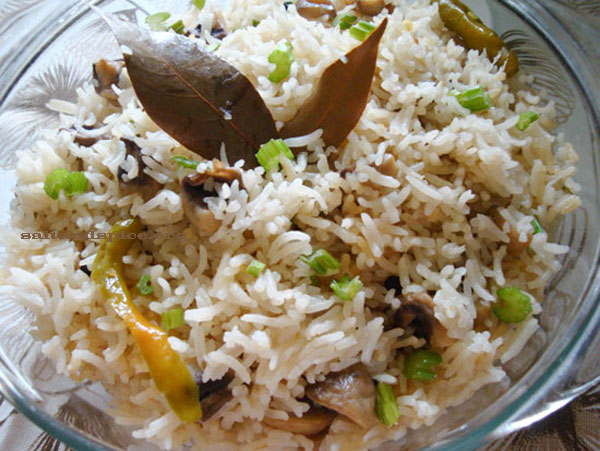 Method
Wash and soak the rice in water for 20 minutes.  Heat butter in a non-stick pan and add bay leaves and peppercorns.  Add the onions and green chillies, and saute till the onions turn pink.  Add the ginger garlic paste and saute till the raw smell goes.  Add the mushrooms and saute till the water is fully evaporated.  Drain the rice and put it into a rice cooker.  Add water, milk and salt to taste.  Also add the sauteed mushroom mixture.  Mix gently and cook till done.  Garnish with chopped celery.  Serve yummy 'Mushroom Rice' with any side dish of your choice.  Enjoy with your kids!
If you are using a pressure cooker, cook on a low flame for 4 minutes after the first whistle.
I am sending this delicious and nutritious 'Mushroom Rice' to Mina for the event 'Kid's Delight' which was started by Srivalli.