Wishing You All A Happy and Prosperous New Year!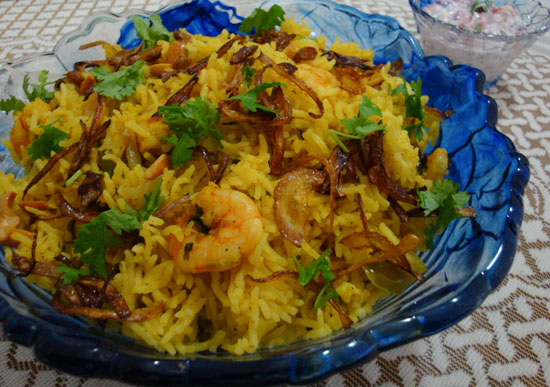 Ingredients
Prawns – 1/2 kg
Turmeric powder – 1 tsp
Chilly powder – 1 tsp
Pepper powder – 1/2 tsp
Lime juice – 2 tbsp
Salt – to taste
Basmati Rice – 2 cups
Water – 2 1/2 cups
Curd – 1/2 cup
Thick coconut milk – 1/2 cup
Oil – 1 tbsp
Ghee – 2 tsp
Cloves – 5
Cardamom – 4
Cinnamon – 3 (2″ pieces)
Bay leaves – 3 small
Onion – 1 big sliced
Ginger-garlic paste – 2 tsp
Green chillies – 2 chopped
Coriander leaves – 1/2 cup chopped
Mint leaves – 1/2 cup chopped
Coriander powder – 1/2 tsp
For Garnishing
Onion – 1 big sliced
Cashew nuts – 2 tbsp
Golden raisins – 2 tbsp
Oil – for frying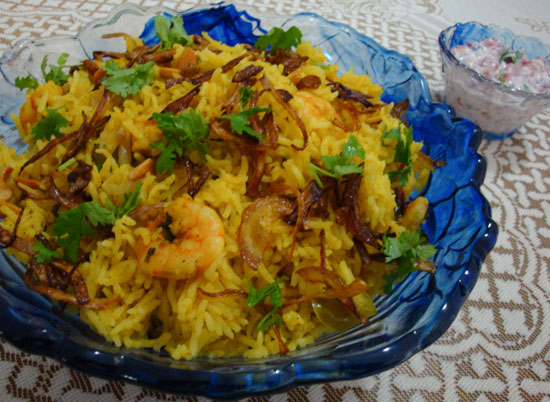 Method
Clean, devein and wash the prawns.  Marinate the prawns with turmeric powder, chilly powder, pepper powder, lime juice and salt.  Keep aside for 15 minutes.  Wash and soak the rice in water for 20 minutes.  Heat oil and ghee together in a non-stick pan and add the whole spices and onions.  Fry till the onions turn pink.  Add ginger-garlic paste and fry for a minute.  Add green chillies, coriander leaves, mint leaves and coriander powder.  Fry till the leaves wilt.  Add the marinated prawns and fry for 5 minutes.  Switch off the flame.  Drain and add the rice to a rice cooker.  Pour water, curd and coconut milk.  Add salt and the prepared prawn masala and mix well.  Cook till done.  Meanwhile, fry the onions, cashew nuts and raisins till golden brown.  Garnish yummy 'Prawn Pulao' with this and serve hot with tomato salad.  Enjoy!
If you are using a pressure cooker, cook for 4 minutes on a low flame after the first whistle.