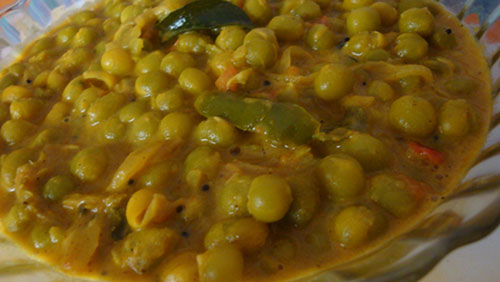 'Green Peas Curry' is a very simple and delicious curry, much loved by Keralites.  It is usually served as a side dish for appam, idiyappam,  porotta  and chappathi.  I have used channa masala in my version.  The original recipe calls for coriander powder and garam masala.
I am sending 'Green Peas Curry' to Sudheshna for the event "Think Spice: Think Turmeric" which was started by Sunita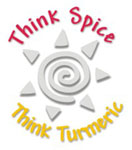 Ingredients
Green Peas – 1 cup
Onion – 1 sliced
Ginger garlic paste – 2 tsp
Green chillies – 2 slit
Curry leaves – 2 sprigs
Tomatoes – 1 medium chopped
Mustard seeds – 1/2 tsp
Cardamom – 2
Cinnamon – 2 " piece
Cloves – 2
Channa masala – 2 tsp
Chilly powder – 1/2 tsp
Turmeric powder – 1 tsp
Pepper powder – 1/8 tsp
Thick coconut milk – 3/4 cup
Salt – to taste
Oil – 1 tbsp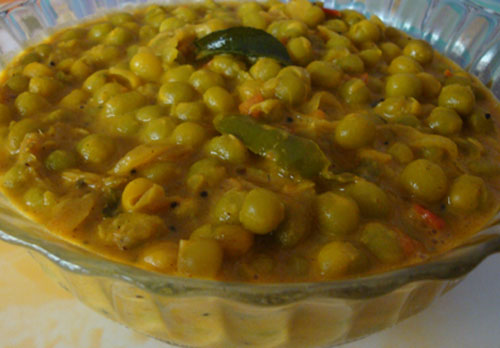 Method
Soak the green peas in water overnight or for 8 hours.  Cook in a pressure cooker with enough water for 5 minutes.  Heat oil in a pan and splutter mustard seeds.  Add the whole spices and then the onions.  Saute till the onions turn light brown.  Then add the ginger garlic paste and saute till the raw smell goes.  Add the tomatoes, green chillies and curry leaves.  Saute till tomatoes are fried and add the spice powders.  Saute till the aroma comes out.  Now add the cooked green peas along with the left over water.  Add salt and mix well.  Let it simmer for about 10 minutes or till the gravy is thick.  Finally add the thick coconut milk.  Mix well and switch off the flame.  Yummy green peas curry is now ready to be served.  Cheers!