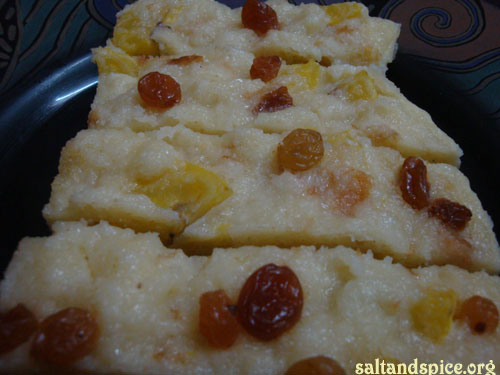 'Rava Appam' is a yummy snack which my Mom used to make.  It is a family favorite and I make it whenever there is leftover bread at home.  Kids will love this soft and nutritious snack!
I am sending this snack to Priya for the event "Sunday Snacks – Snacks with Breads"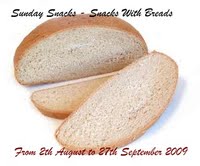 Ingredients
Rava/sooji/semolina – 1 1/2 cups
Ripe Kerala Banana – 1 sliced
Bread slices – 3 cubed
Milk – 2 cups
Butter – 3 tsp melted
Eggs – 2
Sugar – 4 tbsp
Raisins – 1 tbsp
Vanilla essence – 1 tsp
Salt – 1/2 tsp
Method
Beat the eggs well and add sugar, milk, rava and salt.  Mix well and add the bread cubes, bananas, vanilla essence and butter.  Fold in so that the bread is well soaked and mixed with the batter.  The batter should be of pancake or dosa consistency.  Pour into greased plates and garnish with raisins.  Steam cook for about 15 minutes or until a skewer inserted comes out clean.  Cut into desired shape and serve warm.  Enjoy it with your family!!!
You can substitute milk with 1 cup of ground coconut paste which will make the Appam much more softer.
Kreativ Blogger Award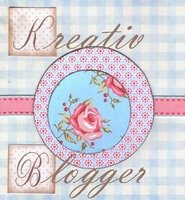 EC from simpleindianfood passed me this Kreativ Blogger Award…Thank you EC for choosing me for the Award!
The Kreativ Blogger award comes with some rules:-
1. You must thank the person who has given you the award.
2. Copy the logo and place it on your blog.
3. Link to the person who has nominated you for the award.
4. Name 7 things about yourself that people might find interesting.
5. Nominate 7 other Kreativ Bloggers.
6. Post links to the 7 blogs you nominate.
7. Leave a comment on which of the blogs to let them know they have been nominated.
You can click here to read about myself…
I would like to pass on this Award to Cynthia, Jeena, Bharathy, Nags, Mandira, Ann and Priya
Thank you so much all my blogger friends who encourage me with their lovely comments and also my silent admirers who visit my blog and experiment with my recipes!